We just published Open Movie VR 2.0 for Google Cardboard: https://play.google.com/store/apps/details?id=com.blendfx.omvr!
What started as an experiment, as a virtual reality app playground, quickly became much bigger than we ever thought. We expected to get maybe a few hundred users, mainly from the Blender community, who might want to visit some of the sets from the open movies in VR. But soon we noticed that we got more and more users that never heard of Blender or the open movies at all. And apparently they loved it! Soon after we released the app for the Samsung Gear VR, we got tens of thousands of new users, meanwhile over 125.000. Awesome! We got a lot of positive feedback:
Quotes
"My favorite part is just how great the rooms look. Wish Netflix and Hulu could do something this polished, then I'd use those apps more. Keep up the work and excited for future videos."
Outstanding Details! So much love and work has gone into this. I can not wait for more content. Amazing graphics and don't forget to look around!
INCREDIBLE! Next level stuff! Can't wait for more! Wish there were more movies. LOVE how the landscapes change! Please make more!!!!!
Unexpected costs
However, the unexpected success totally blew up our streaming costs. Because judging from the number of times people were downloading or streaming the four movies that we have online, they must have been watching them definitely more than once. And because we cannot stream Youtube in VR (for technical reasons), we had to stream from our own servers, and that started to actually cost some money. So we decided to add In-App-Purchases to OpenMovieVR in order to be able to keep the app alive and add more content, more movies and more features!
The "OpenCamcorder"
One of the most common feature requests is that apparently people want to watch their own movies in the Open Movie VR environments. So be it! If someone wants to watch his own movies in OMVR, he can now purchase the "OpenCamcorder" for 0.99€ in our new OMVR Store. That will place a digital camcorder on the virtual table in front of you. Plug it in and you can watch your own movies from the OpenMovieVR folder on your device on the giant TV screen in any of the movie environments.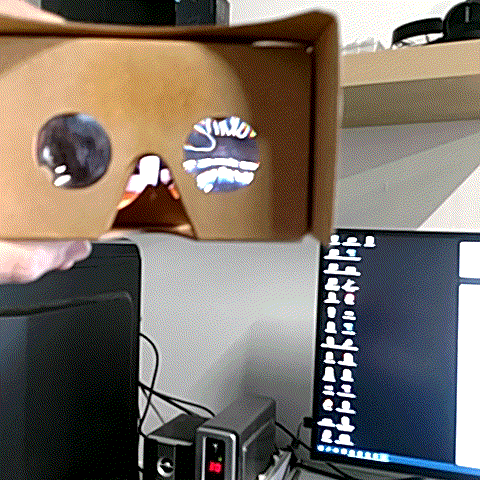 For more info please visit our little Youtube tutorial! :)
More Content
We really love this little app, and we totally want to add all the Open Movies to it. So you can expect to see Sintel soon, with 3 or 4 different sets from the movie. Caminandes Llamigos will get a beautiful second environment. And we cannot wait to see Big Buck Bunny in VR! But that might take some time tough, because we need to convert the scenes to a new render engine and make sure that the environments all work in 360°. And while we love free stuff, working on OpenMovieVR costs time, resources and money. So we have to put a little price tag on the additional content. But we try to keep it affordable!
More Platforms
For various reasons (one of them being that it took over a month for Oculus to fix a bug on their website) we made version 2.0 for Google Cardboard first. But the version for Samsung GearVR will follow soon, and we hope to port it to Google Daydream as well. So stay tuned!