We create content for every reality.
We love 3D, but looking at a computer screen can get boring after a while. So we are constantly looking for new ways to display our work and the content we develop for our clients in a different, more appealing way.  By using the powerful Game Engine Unity we are able to create interactive 3D applications which can be displayed on full feature Virtual Reality devices, develop Augmented Reality apps for mobile devices or even experiment with Mixed Reality Glasses, short: We create immersive content for every reality.

We have specialized in creating high end solutions for full feature VR such as Oculus Quest, Pico and HTC Vive. We have developed a workflow that allows us to embed animated and interactive content seamlessly into high resolution photorealistic 3D environments. When it comes to low maintenance, accessible, intuitive and preferably seated VR experiences, full feature VR is the best.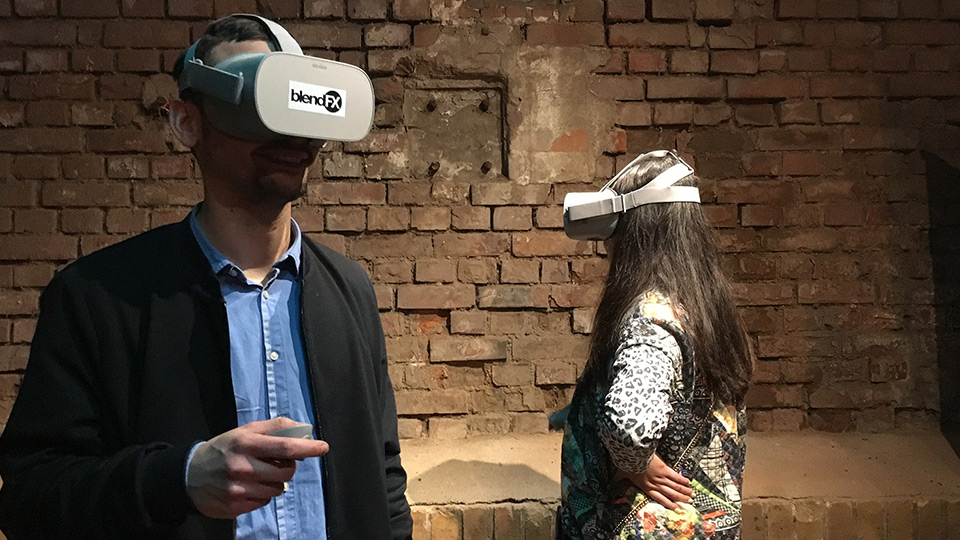 Virtual Reality Apps should not only be fun, but make a bit of sense too. A museum, a booth at a fare or an installation at a festival should not just make sense but be a bit of fun as well! We bring both of it together. We provide you with the concept and development of interactive VR projects, highresolution stereoscopic VR Renderings, intuitive user interaction and technical consultation – for a successful VR experience for your installation!
Putting virtual elements into a real life environment, that's what augmented reality is all about. In addition, all that is happening in real time viewing the content on your mobile device's screen. How is that possible?
We can use almost any image as a tracker to set the coordinates for an anchor where every CG element can be displayed. If it is an animated character in a book, an exhibit in a museum or you product displayed in any environment – augmented reality apps can make it possible!
Sometimes virtual or augmented reality isn't the way to go, but still you want to show your content in an interesting way.
Written text played back as an audio recording through a speaker or illustrated with short video clips, a gallery to swipe through or even an educational game – we also specialized in creating interactive apps and solid solutions for displaying interactive content on tablets in daily museum use.